The DAC module done on the basis of IMS multi-level Delta-Sigma DAC Asahi Kasei Microdevices AK4490 under the "dual mono" (Dual Mono) for each channel using separate independent IC DAC, regenerating the filters, and power supplies.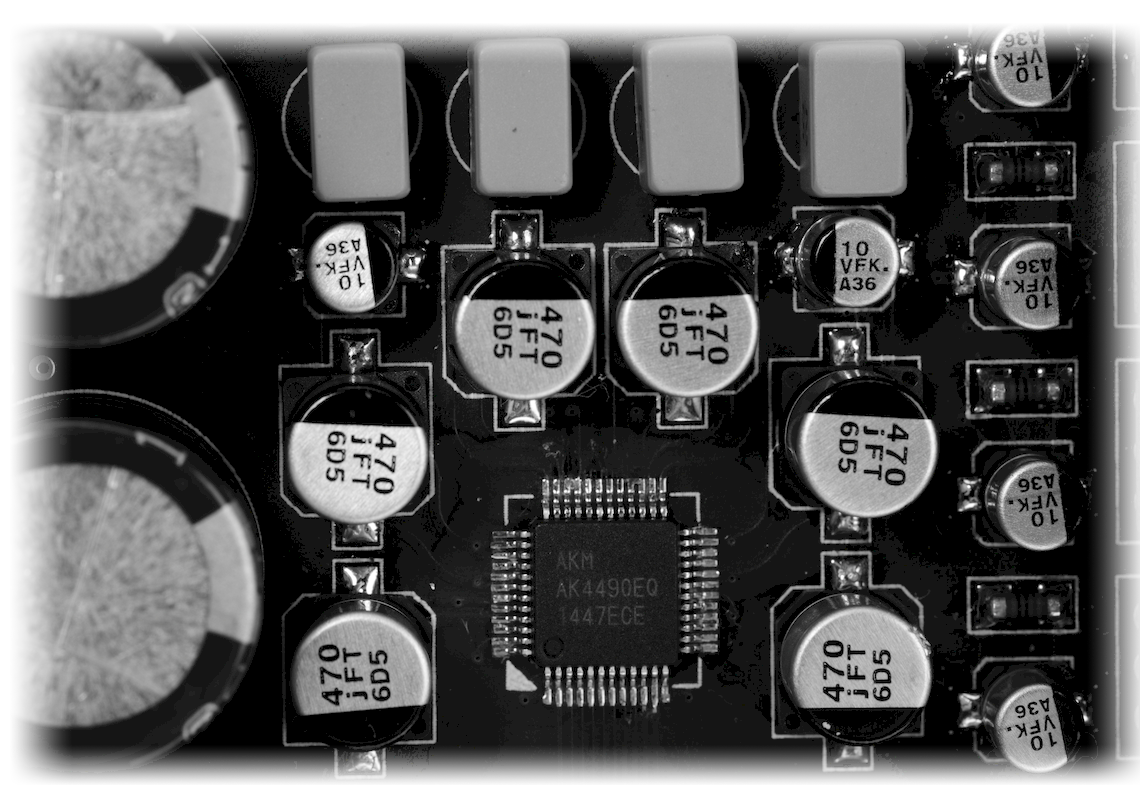 The formation of the control signals synchronization signal interface module, pre-treatment and separation of data flow implemented in the FPGA. To improve noise immunity, all lines are control signals, data, and synchronisation is equipped with a receiving buffer elements with hysteresis switching characteristics.
Food functional components of the digital part of the DAC module is provided by individual integrated stabilizers, with every digital circuit or group of logical elements with a uniform function with individual LC filters.
Dual frequency clock generator for generating the primary synchronization signal is a multiple of the frequency of 44.1 kHz or 48 kHz, made on the basis of quartz generators direct generation of ultra low phase noise level at low delays and very low short-term instability.
In the clock generator has taken steps to exclude voznikoveniia interference jitter. The power generator is provided by a discrete regulator ultra-low noise and high stability of the output voltage. To exclude the possibility of interference on the supply lines directly crystal oscillators applied to LC-filter 4-th order.
To eliminate common mode noise from the modulators IC DAC, their output signals are precisely sum-difference processing with independent pre-filtering of HF components that are part of a General restoration filter. The total restoring characteristics of the filter to the approximation of the Bessel order of 3½.
Primary filters are made solely on the basis of a linear Oh AD823AAR the resilient inputs to the effects of RF interference. MyCitadel and the second link filter built OPA1612 op-amp with extremely low distortion and high rejection ratio of common mode signals, and output buffers-adders and shapers - Oh ОР42 in metal buildings, known for its musicality and excellent work with signals of large amplitude. The outputs of the adders Oh and shapers mosney single-ended signal, operating in class A linear amplifier transistors.
In the passive circuits of the analog part of the DAC module are used for precision low-noise metal foil resistors Vishay precision foil capacitors Wima and power circuits - low impedance capacitors to Panasonic and NCC.
The power of each DAC chip is from 4 independent swarnalakshmi discrete stabilizers, the ratio of the reference voltage and power supply voltage analog part of the DAC IC is chosen based on the criterion of minimizing the level of distortions and to receive the evenly falling spectrum of their components.
Power circuits of the analog part of the IC and DAC basically do not use ceramic capacitors because of their extremely unfavorable influence on the sound. For high frequency bypass grafting surface applied film capacitors Wima and Panasonic.
Oh great visitala, adders and buffers are powered by separate channels of a low noise discrete regulators with a high degree of suppression of pulsations and aperiodic transition response (differential power consumption). Constant and low impedance power sources OU is provided a combined bypass power lines